Autumn blood donation campaign began
20.10.2009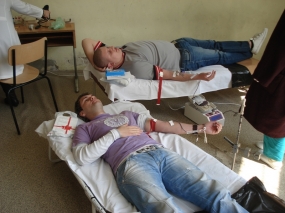 In a press conference at the Ministry of Health an Autumn National Blood Donation Campaign Drop by Drop - a Life was launched.
The press conference was attended by Dr. Sofia Stoimenova - Director General of the BRC, Prof. Andrey Andreev - Director of National Center of Haematology and trasfuzion and Prof. Stoyan Alexandrov - Director of Medical Affairs Department at the MoH.
For thirteenth consecutive year the campaign will appeal to young people at universities and students over 18 years to donate blood.
Dr. Bozidar Nanev - Minister of Health, became the first donor to the autumn campaign. He urged all healthy Bulgarian citizens, who are responsible for the fate of the patients to become donors.